Welcome!
As we all continue to adjust to life during a pandemic, due to uncertainties about in-person events, we are going to be "nimble" in scheduling workshops over the coming year. Our plan for this Fall is to make in-person workshops available to those who feel comfortable joining them, while following the State of Vermont's recommendations regarding masking and social distancing. We will make the meetings themselves and—as often as possible—presentations at meetings available for streaming to members who need or want to use this option. Check the website regularly for specific updates. The extensive guild library collection will still be available for checkout via the postal service.
If you are able, consider a donation to the Craft Center, the "home" of the guild.
Checks can be sent to:
White River Craft Center
50 Randolph Avenue
Randolph, VT 05060
Thank you for visiting our website!
Executive Committee
Vermont Weavers Guild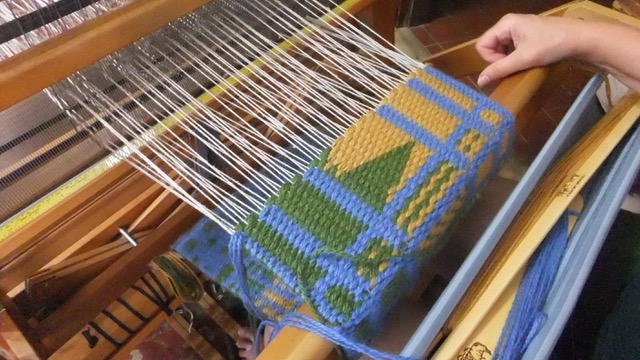 On the loom at the Jason Collingwood Workshop
Welcome Weavers!
The Vermont Weavers Guild is a non-profit educational association. Its purpose is to increase technical proficiency and artistic experience by providing a well-rounded educational program, to promote and maintain high standards of weaving, as well as related fiber arts, to share our knowledge and ideas and to bring together hand-weavers.

Meetings are held on the 2nd Saturday of the month in September, October, November, February, March, April, and May at the White River Craft Center Kimball House at 50 Randolph Avenue, Randolph VT, 05060
---
---
Like and follow us on Facebook

---
Looms For Sale
Members
Non-Members
---