Workshops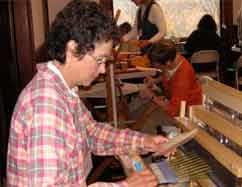 Afternoon workshops are provided to enhance the understanding of weaving and related topics. Multi-day workshops give the opportunity to spend extended time developing a more in-depth knowledge of a particular weaving structure.
Please register early for any workshop. Registrations on the day of the workshop will be accepted at the discretion of the committee and the instructor. There will be an additional $5.00 fee for registrations on that day.
If you find you cannot attend, please email Claudia Gibson at ccgmpcr@gmail.com to cancel. If your place can be filled from a waiting list, you will receive a refund. If we do not have enough registrations in advance, a workshop may be cancelled. If a workshop is cancelled due to weather or presenter illness, it will be posted on the website and the registration fee will be refunded at the next meeting.
Pricing for workshops
The fees for workshops will be posted below each workshop description.
Register for a Workshop
There are two ways to register for a workshop, mailing a check and registration form, or paying online and emailing the registration form. The form includes contact information so that you can be contacted with any changes to the workshop requirements. Questions about programs and workshops can be sent to the Program Committee Chair, Claudia Gibson at ccgmpcr@gmail.com.
By mail: Complete the Registration Form to register for workshops. Please mail the registration form and your check to the address on the form.

OR


Online: Complete the Registration Form and email it to Claudia Gibson at ccgmpcr@gmail.com. Use the "Buy Now" links below to provide payment by PayPal.
---
2023–2024 Programming and Workshops
September 9, 2023, 1:30–4:00
Afternoon Program—VWG Weavers Helping Weavers
Our September meeting will be happening in-person (at White River Craft Center).
Moderators: Claudia Gibson, Shirley Bergert, Julie George, et al.
You may have attended the New England Weavers Seminar (NEWS) this summer; perhaps you have only heard about it. This session is a moment to share our experiences at NEWS.
Did you attend NEWS and take a workshop or class? We will want to hear about it.
Did you go to view the exhibits or the open studios? We'd love to hear your perspectives.
Did you learn a new weaving method or structure? Come show off what you made/learned.
Tell us about an instructor who inspired you. And please bring along any woven item that you created in a workshop.
If you are inspired to weave and submit to future exhibits, this session is for you! Several of our Vermont weavers received high honors for their work at NEWS. These pieces and others were originally placed in our Guild's 2023 Exhibit. Members will be available to discuss the creation and exhibition process and their experience of the judging process and feedback.
The September afternoon may inspire us to delve into a weaving process, or to work on aspects of the craft beyond throwing the shuttle (finish, photography, display and documentation are only examples). Over the coming year, subsequent "Weavers Helping Weavers" sessions will address these topics. New members especially, can look forward to their participation, and contribution, to this weaving community.
Our guild mission is to encourage and inspire as we grow in this craft and to set our personal challenges as our weaving develops.
This afternoon program is free and all are welcome!
October 14, 2023, 1:30–4:00
Afternoon Workshop—Kelly McDowell—Fiber Innovations—Sustainable or Greenwashing?
Sustainable fashion, or eco-fashion, is the movement towards more "responsible" methods throughout apparel production, consumption, and beyond. But how do you know that an innovative fiber is really better in terms of "sustainability"? Kelly McDowell will highlight sustainable solutions and help us explore what being more "responsible" means and how we can personally contribute to better fiber choices and fashion practices. This is an in-person workshop. As a group, we will examine and work with samples of some of the latest fiber innovations while Kelly takes us through a transparency analyses to determine their sustainability.
Instructor bio:
Kelly McDowell, MFA, lives in Burlington, Vermont but is a native New Yorker, who spent almost a decade working in NYC's corporate fashion industry. Kelly received her Bachelors of Science from the prestigious Fashion Institute of Technology, situated in the heart of the New York City Garment District. With years of working in product development in the corporate apparel and accessory industries, she witnessed the negative impacts that the global fashion industry has on the environment and people. Throughout her graduate research, Kelly immersed herself in Vermont community-based learning through transdisciplinary practices including alpaca fibers, hemp fibers, upcycling and activism. Kelly teaches Sustainable Fashion and Design Innovation at the University of Vermont in the College of Agricultural Life Science.
Kelly has given many presentations on hemp fiber and sustainable fashion throughout the Northeast, including keynote speaker at the inaugural meeting of the Northern New England Fibershed roundtable. All of this work is meant to empower the individual to consume more ethically and understand how their apparel consumption affects the environment and people.
Maximum Participants: 15, in-person workshop
Workshop fee: Members: $35, Non-members: $45. Materials Fee: $10

November 11, 2023, 1:30–4:00
Afternoon Workshop—Jane Woodhouse—Natural Dyes
This presentation by Jane Woodhouse will explain the process of plant-based dyeing through extracts, as an overview preceding a detailed hands-on workshop "Plant-Based Dyeing" to be held in April. Jane will also demonstrate the results of her trials of alternative mordants (her article on this topic appeared in Spin-Off magazine). Students can compile a sample card of their own to accompany their notes. This presentation is free, but there will be a modest materials fee for those who want to collect samples. This session is not a pre-requisite to the follow-up workshop in April, although we hope that it will inspire those in attendance to pursue this method as it offers a uniquely creative and colorful design process.
Please email Claudia Gibson at ccgmpcr@gmail.com to let her know if you'll be attending this presentation.
---
Directions to Kimball House

From I-89 take exit 4 onto Rte-66, head down hill to Randolph. At the stop sign, keep going straight (south on rte 12). Bear left (west) onto Rte-12 (N. Main St.), Go past Chandler Arts Center. Before the gazebo, bear left onto South Pleasant Street. Take the next road on the left, which is Randolph Ave. Kimball House is at the end of the street, sitting at the top of the hill. The drive to the right leads to a parking area. See map.