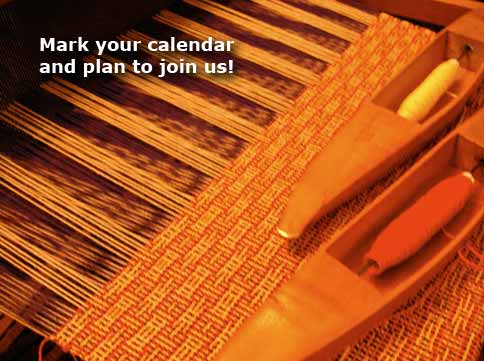 2020-2021 Upcoming Meetings and Workshops Overview
Due to COVID-19, as of September 2020 and until further notice, the guild meetings will take place virtually.

February 13, 2021
Our February business meeting will be happening over Zoom web conferencing. An invite to the meeting will be posted soon.

AM Virtual Presentation—Robyn Spady—Weaving Innovations from the Bateman Collection
PM Workshop—Robyn Spady—Weave Structures: Introduction to Tied Weaves

March 13, 2021
AM Virtual Presentation—Justin Sqizzero—Fancy Weaving in the 21st Century
PM Virtual Workshop—Justin Sqizzero—How to Wind Warps and Influence People—Multiple End Warping from Four to Forty

April 8-9, 2021
One and a Half Day Virtual Workshop—Jill Staubitz—Overshot Drafting and Design: 4 and 8 Shaft Explorations

May 8, 2021
AM Virtual Presentation—Suzi Ballenger—Textile MFA Experience from UMass Dartmouth
PM Virtual Workshop—Suzi Ballenger—Transforming Tools and Weaving Wonders


Additional details will be added as they are scheduled.

Choose the Meetings link for a description of the morning sessions the Workshops link for a description of the afternoon workshops. Sign up with the workshop registration form.

Cancellation Policy

A monthly Guild meeting may be cancelled in the case of severe weather conditions or other uncontrollable Craft Center building issues.

The Executive Committee will decide by noon the Friday before the Saturday meeting if we need to cancel due to bad weather or other conditions beyond our control.

The announcement will be posted on the front page of the Vermont Weavers Guild website, on the Vermont Weavers Guild Facebook page, and under Guild Business on the Vermont Weavers Guild Member Forum.