Welcome!
The Vermont Weavers Guild is a non-profit educational organization whose goal is to educate our members and the general public in the development of hand weaving and related fiber arts.
We are a group of active weavers of diverse interests and backgrounds. We meet monthly, September thru May (taking December and January off). Currently, meetings and presentations are offered at the White River Craft Center in Randolph, as well as virtually (via Zoom). We offer many half-day, and a few multi-day workshops—some of these are available virtually, as well.
Participation in the guild offers a variety of weaving support and instruction, and will ultimately push you to expand your weaving horizons—from working in new weave structures and with previously untried materials to group participation toward exhibiting and marketing your weaving.
Members have access to a large library of books, DVDs, sample books and periodicals, catalogued and maintained over decades, with professional advice. The extensive guild library collection is also available for checkout by members to take home between guild meetings.
If you're a weaver, we would like to urge you to join the Vermont Weavers Guild. Our "Members Only" pages provide access to Virtual Studio Tours, access to a list of the guild's extensive library holdings, access to our discussion forum and our list of looms and other equipment for sale. Our workshops are available for purchase to non-members; our presentations are open to the public.
Be sure to take a look at this year's presentation and workshop offerings.
Upcoming Workshops
If you are able, consider a donation to the Craft Center, the "home" of the guild.
Checks can be sent to:
White River Craft Center
50 Randolph Avenue
Randolph, VT 05060
Here is one of our members' studio tour: Virtual Studio Tour
Happy weaving!
Executive Committee
Vermont Weavers Guild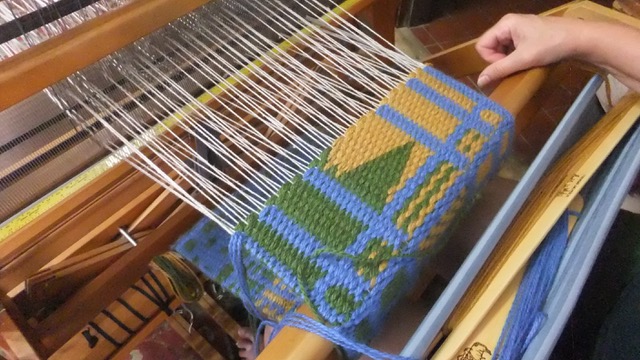 On the loom at the Jason Collingwood Workshop