Meetings: When and where we meet
We meet the 2nd Saturday of the month in September, October, November, February, March, April, and May at the White River Craft Center at the Kimball House, 50 Randolph Rd, Randolph, Vermont. See map .
You are welcome at 9:00 to socialize, check out the library, have a cup of tea or coffee, before the start of the meeting at 10:00, followed by a business meeting at 11:30, and library access from 12–1:00. With the exception of pre-announced potlucks, food is not available at the meeting location so bring a bag lunch and socialize over the lunch break.
Morning meetings are free of charge to guild members and the general public.
Afternoon workshops usually begin at 1:00. Learn more about the guild's upcoming schedule of multi-day and afternoon workshops.
Upcoming Meeting Schedule
Sept 9, 2023, 10:00 am
Our September meeting will be happening in-person and over Zoom web conferencing.
The presentation will focus on some of the workshops the Guild offered to members last year, with a focus on sharing our work from and experience of the event. Starting at 10 am, participants will share their experience (and the class' work) from:
"Introduction to Doubleweave" with Susan Rockwell (shannon Cunniff)
"Defected Doubleweave" with Lisa Hill (Dena Hirchak)
"Ikat" with Mary Zicafoose (Layne Tharp)
Members have been encouraged to share their weaving from each of the workshops, either in person or by photograph. A slideshow will accompany these presentations.

After the business meeting at 11 am, there will be a potluck salad lunch, to introduce and get to know our newer members (those who have joined since 2020). Newer members will be our guests.
We will provide salad greens, a few dressings, disposable tableware and napkins.
Please contribute a tasty ingredient for the salads (enough for yourself and several other people—we will make a large "salad bar".
We will offer hot water for tea, please bring your beverage of choice.
Oct 9, 2023, 10:00 am
Our October meeting will be happening in-person and over Zoom web conferencing.
Kelly McDowell—Fashion Production: Where Do Our Clothes Come From?
The global fashion industry is a system of production processes creating clothing, a human need. Understanding how fashion production operates is essential to seeing the scope and complexity of the problems.
Kelly McDowell has an MA in Social Innovation and Sustainability and will explore these concepts with knowledge and experience from her past career in fashion production in NYC. She will talk about how our clothes are made: from the basic fiber production, to dyeing, and garment production and address the detrimental aspects affecting the environment and people. She will also provide suggestions on how each of us can be more conscious and ethical consumers of fashion, fabrics and fibers.
Nov 11, 2023, 10:00 am
Our November morning presentation will be happening over Zoom web conferencing.
Time: 9:00 AM, Saturday Nov 11, 2023, White River Craft Center
Join Zoom Meeting
https://us06web.zoom.us/j/87501757393?pwd=Y9u5ublnlnEwWlXfa0WaEfq0ExMCKa.1
Meeting ID: 875 0175 7393
Michael Rohde—Subliminal Texture and the Interaction of Light and Color
While presenting slides from his portfolio, Michael Rohde will discuss how he works with fibers and natural dyes to obtain the effects and the range colors and contrast not available in commercially dyed materials. He will dispel some myths about natural dyes, and explain how he sources his dye materials.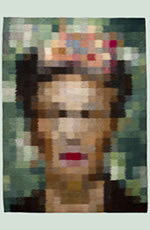 Tapestries from left to right:
Reality - 2016, wool, alpaca, silk, camel, natural dyes 43 1/2" x 32 1/2"
Transect - 2019, wool, silk, indigo, walnut dyes 75" x 48"
Exclamatory, wool, camel, goat, mohair, natural dyes 76" x 47".
Michael Rohde, a tapestry weaver and artist residing in the Santa Monica Mountains of Southern California, has been weaving since 1973. His formal training in drawing, color and design was at the Alfred Glassel School of the Houston Museum of Fine Arts. His activities include lectures, workshop teaching, juror, exhibition organizer and exhibitor in many local, national and international juried and invited shows. Recently his work has been included in the United States Department of State Art in Embassies Program, exhibits at the Textile Museum in Washington, DC, the American Craft Museum in New York, the invitational Triennial of Tapestry in Lodz, Poland, from Lausanne to Beijing (twice), Houses for Nomads (a solo exhibit at the Janina Monkute-Marks Museum in Lithuania), an exhibition at the Mingei International Museum in Balboa Park in San Diego. His work is in the permanent collections of the Textile Museum (Washington, DC), the Mingei, the San Jose Museum of Quilts and Textiles, the Ventura County Museum of Art, the Racine Art Museum and The Art Institute of Chicago.
Feb 10, 2024, 10:00 am

Our February morning presentation will be happening over Zoom web conferencing.
Connie Diamant—Free-weaving ("Saori-style" or "Intuitive" Weaving)
Connie Diamant will explain how Free-weaving (referred to as "Saori-style" or "Intuitive" weaving by some) creates room to explore colors and the role of textures in weaving. Free-weaving encourages one to experiment, mixing different materials and colors, skipping dents and doubling threads—all without fear. Conveniently, this playful weaving style has no rules so there are no mistakes, except perhaps happy accidents. Then you can bring this knowledge back to traditional weaving or incorporate a mixture of Free-weaving into your favorite pattern to expand your repertoire. Connie will share over 20 years of practicing and teaching weaving and show you clothing she's made from her woven cloth that has incorporated the principles of Free-weaving using unusual fibers and bits and pieces of things. This presentation will be entirely via zoom.
Connie Diamant brings over 20 years of traditional weaving experience along with Saori intensive training with Mihoko Wakabayashi of Worcester, Massachusetts and workshops and classes with Cheryl Dunworth of Weavin' Place ~Saori Style (Folsom, Louisiana). In presentations and workshops she brings a passion and enthusiasm to introducing Free-weaving and sharing this unique weaving experience. Her work has been exhibited at the Hylton Performing Arts Center of George Mason University (Fairfax, Virginia) and Northern Virginia Community College, Manassas Campus' annual juried art show. She teaches weaving in northern Virginia.
Cancellation Policy
A monthly Guild meeting may be cancelled in the case of severe weather conditions or other uncontrollable Craft Center building issues.
The Executive Committee will decide by noon the Friday before the Saturday meeting if we need to cancel due to bad weather or other conditions beyond our control.
The announcement will be posted on the front page of the Vermont Weavers Guild website, on the Vermont Weavers Guild Facebook page, and under Guild Business on the Vermont Weavers Guild Member Forum.