Meetings: When and where we meet
We meet at the Kimball House, Randolph, Vermont. See map.

People are welcome at 9:15 to socialize, check out the library, have a cup of tea or coffee, before the start of the meeting at 10:00, followed by a business meeting from 11:30 to noon, and library access from 12 -1:00 pm. Food is not available at the meeting location so bring a bag lunch and socialize over the lunch break.

Morning meetings and programs are free of charge to guild members. Non-members may attend one meeting at no charge.
September 9, 2017 – Susan Rockwell & Panel
Whether an old or new member please come help us celebrate this special birthday of the Vermont Weavers Guild. There will be a panel of several people with a display of photos, newspaper articles and guild memorabilia. The panel will cover a time line of Art and Crafts in Vermont, a search of newspaper records of the guild, the VWG association with NEWS and hearing from our special guests. Special guests will be two of our four Honorary Members, Betty Atwood and Edith House who are both distinguished weavers and have been mentors to many experienced and new weavers over the past almost 70 years. They both are truly a "Weaver's weaver" which means they have both taught weaving and been mentors to all weavers. Both have held many offices in our guild. Betty joined the guild in 1951 and has a keen memory of her early days in the guild, woven our award ribbons for years and is still running her weaving studio with students in Florence, VT. Betty is a past President of the New England Weavers Seminar (NEWS)*. She taught in the Weaving Department of UVM for many years and is an accomplished weaver still weaving and mentoring. Edith House is not only an Honorary Member of our guild but also an Honorary Member of the Weavers Guild of Boston. She has taught throughout New England and is a designated "Weaver of Distinction" at the NEWS based on her many award-winning shaft-switch rugs. Edith joined the guild in the 1970s and first learned to weave on an inkle loom. Edith received her Master Weavers rating from the Handweavers Guild of America in 1988. Please come and share your photos, newspaper articles and experience with the guild as well. Everyone except the Honored Guests are requested to bring a potluck so that we can get to know all members of our wonderful guild better.
October 14, 2017 – Donna Kay
Yarn Evaluation: Methods for evaluating and determining the best uses for many different kinds of yarn.
November 11, 2017 – Lucy Brusic
What is crackle and what can you do with it?
Calendar
Meetings
---
Workshops
---
Past Workshops
---
---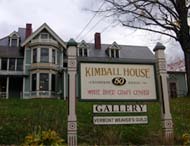 Welcome, Weavers!

If you're a weaver--beginner or pro--the Vermont Weavers Guild welcomes you. Plan to join us at one of our regular meetings at the Kimball House, Randolph, Vermont.
---
Directions to Kimball House

From I89 take exit 4 onto Rte 66, head down hill to Randolph. At the stop sign, keep going straight (south on Rte 12). Bear left (west) onto Rte 12 (N. Main St.), Go past Chandler Arts Center. Before the gazebo, bear left onto South Pleasant Street. Take the next road on the left, which is Randolph Ave. Kimball House is at the end of the street, sitting at the top of the hill. The drive to the right leads to a parking area. See map.