Welcome to our website!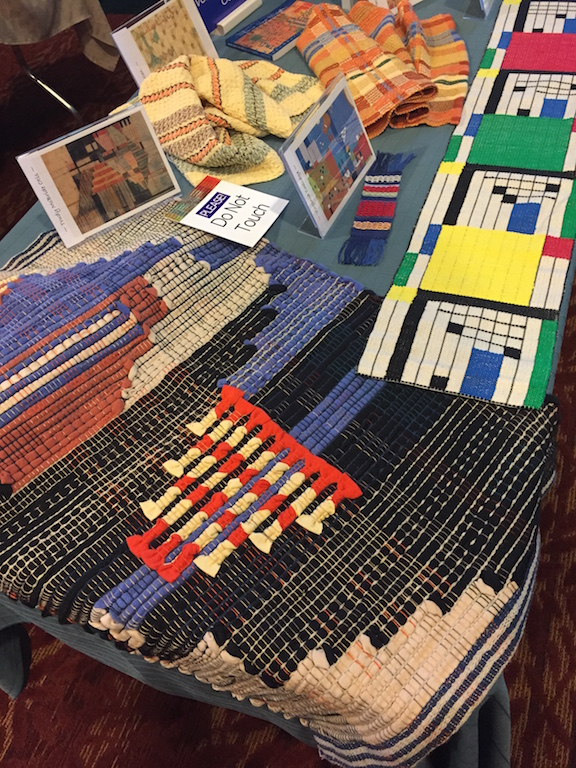 Samples of weaving: Frank Lloyd Wright postcard challenge.


Hello Weavers,
Spring!! Itís here Ė so exciting!! The anticipation of warmer weather, plants popping up from their winterís rest, trees budding, birds coming back, baby animals being born, etc. are all indications of my favorite season. It also reminds me that I must get weaving projects finished before Iím spending all my time outdoors. Yips!!
Thanks to all of you who signed up for the workshops this year (9/2015 through 5/2016). The ones I participated in I really enjoyed and learned new things and I hope you did too. Be sure to let the program committee know what you would like to have for future programs.
I encourage everyone to feel free to ask questions regarding anything to do with weaving. Iím finally getting my courage to do so after five years of being a guild member and 15 plus years as a weaver. I think one reason why I hesitated to ask was since Iíve been weaving for this long I should know everything about weaving or at least be able to figure out how to do something. Right? Wrong!!! There are several ways to do this: ask the question(s) via the yahoo group, check out the list of members and find members who live near you and contact them directly, or talk with people at the guild meetings or at the business meeting. We have a great guild and all of us are willing to help.
I hope to see all of you soon,
Betty Mitchell, Guild President
4/2016