A message from the Guild President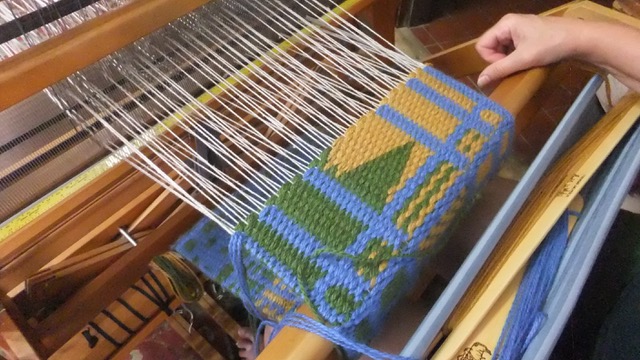 On the loom at the Jason Collingwood Workshop
Winter is my favorite time of year. I love the snow, the brisk air, and of course no mosquitoes. When there is a full moon, the reflection off the snow gives the inside of the house an amazing white glow. We had some great cross-country skiing in December. Being in the woods in winter and seeing the deer, turkey and coyote tracks is such a joy. Unfortunately now the ice has taken over and I am back to walking on the road every day instead, but I am getting out. With the holidays over it has been time to get back to weaving. A couple of blankets with some mohair boucle stash yarn are just off one loom. They are incredibly soft and warm. Now there are some Huck scarves on the loom that are coming along nicely. I hope all of you are finding time to weave regularly.
I am looking forward to our spring guild meetings and the time to talk weaving. February morning is set for Show and Tell. Bring something to share. It could be a success or an item that didnít work out the way you had hoped. Julie George will be our afternoon presenter in February. She will be sharing her knowledge and experience entering work into a show. It is a great opportunity to ask your questions and reduce your anxiety over entering your own work into a show. March morning is a Double Weave show and tell from the fall workshop. The afternoon will be the kick-off for the Tapestry Study Group with Rebecca Mezoff. It is a wonderful chance to stretch your weaving skills into tapestry with a well-known instructor. Rebecca is an awesome teacher and the online environment lets you work at your own pace. You have the added benefit of being able to talk with fellow members. Since it is online there is still time to register. Once you register, the content is available to you indefinitely. April begins a second multi-day workshop opportunity. Susan Wilson is coming to present a Polychrome Crackle workshop. There are still seats available and it is a great chance to study with a well-known Crackle author. Check out the vtweaversguild.org for full information on the morning presentations and the afternoon workshops and the registration form.
The time donated by our many volunteers keeps our guild functioning. Anytime you can share your time for a position or committee it benefits the guild.
I am looking forward to a great spring with all my fellow weavers. If you have any ideas of how we can improve the guild experience, please contact me.
MaryAnn Bennett
Guild President
February 2018