Weaving Classes
Ann's Weavery
Ann Lovald
961 US Route 2
Middlesex, VT 05602
802-522-7666
Website: www.annsweavery.com
Email: annsweavery1@aol.com
Dena Gartenstein Moses - Vermont Weaving School
4 Signal Pine Road
Putney, VT 05346
802-387-2656
www.vermontweavingschool.com

Dianne Yelton
PO Box 244, Londonderry, VT 05148.
dianwevr@yahoo.com.

Elizabeth (Betty) Atwood
Florence Rd. 94 Whites Crossing
Florence, VT 05744-9715
802-483-9462

Fletcher Farm School for the Arts and Crafts
611 Route 103
Ludlow, VT 05149
e-mail: Info@FletcherFarm.com
Phone: 802-228-8770
Marshfield School of Weaving
334 Jake Martin Road
Marshfield, VT. 05658
(802) 426-3733
www.marshfieldschoolofweaving.com

Northeast Fiber Arts Center
7531 Williston Road
Williston, VT 05495
288-8081
www.northeastfiberarts.com

Sara Goodman Fiber Studio
House of Dreams
Lyme, NH 03768
http://www.saragoodmanfiberstudio.com/instruction.php

Susan Rockwell
4120 Braintree Hill Road
Braintree, VT 05060-8854
802-728-9728

Weaving Resources and Organizations
Halcyon Yarn
The guild is now a member of the Halcyon rewards program. When you make a purchase at Halcyon mention that you are a member of our guild. At the end of each year the guild receives a small percentage of the amount spent by guild members. A coupon for $5 off your next purchase was distributed at the March meeting. The coupon is available to members only and expires December 31, 2016.

Handwoven Magazine
201 E. Fourth St.
Loveland, CO 80537
http://www.interweave.com/weave/
Fax: (970) 669-6117
Phone: (970) 669-7672 (Monday - Friday, 8:00 a.m. to 5:00 p.m. MST)
Subscription: $24.00/year for five issues

Handweavers Guild of America
www.weavespindye.com
$40/year for 4 issues of Shuttle, Spindle & Dyepot magazine

Weaving a Real Peace
http://www.weavearealpeace.org/
Organization to connect weavers in US with weavers in developing nations.

Spinner's, Knitter's, and Weaver's Housecleaning Pages -website by a Vermonter!
http://www.kbbspin.org/
Website run by local teen and mother that offers place for people to buy/sell weaving, spinning equipment, etc. Check it out!!

Links
Looms For Sale
Members
Non-Members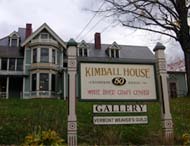 Welcome, Weavers!
If you're a weaver--beginner or pro--the Vermont Weavers Guild welcomes you. Plan to join us at one of our regular meetings at the Kimball House, Randolph, Vermont.