Workshops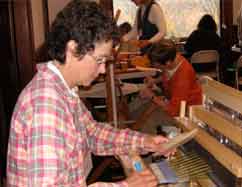 Afternoon workshops are provided to Vermont Weavers Guild members to enhance the understanding of weaving and related topics. Multi-day workshops give members the opportunity to spend extended time developing a more in-depth knowledge of a particular weaving structure. Please register early for any workshop. If we do not have enough registrations in advance, a workshop may be cancelled.
Policy for afternoon workshops
You must be a member of the Vermont Weavers Guild in order to register for an afternoon workshop.
Please sign up at least one month before the workshop. Afternoon workshop registration fee is $25.00 per session. Materials fees are in addition to the workshop fee and are to be paid directly to the instructor.
Registrations on the day of the workshop will be accepted at the discretion of the committee and the instructor. There will be an additional $5.00 fee for registrations on that day. A workshop may be cancelled if not enough participants are signed up one month in advance. If you find you cannot attend, please email the Program Committee to cancel. If your place can be filled from a waiting list, you will receive a refund.
If the workshop is cancelled due to weather or presenter illness, it will be posted on the website and the registration fee will be refunded at the next meeting.
Policy for Multi-day workshops
The fees for multi-day workshops will be posted in the description.
If we do not have the minimum participants signed up from our guild, the program committee may open registration to other guilds. If the workshop is cancelled due to insufficient registrations, weather or presenter illness, it will be posted on the website and money will be refunded at the next meeting.
Please complete the Registration Form to avoid any confusion about your workshop choices. The form includes contact information so that you can be contacted with any changes to the workshop requirements. Please mail the registration form and your check to the address on the form. Questions about programs and workshops can be sent to the Program Committee Chair.
---
September 8-9, 2018

AM – Jane Woodhouse – Roots, Bugs and Berries: In Search of the Perfect Red 

PM – Jane Woodhouse - Dyeing Silk Naturally
We will begin with a short discussion of dye theory as it applies to both chemical and natural dyes. Dye extracts will be mixed in a 1% equivalent stock solution for mixing colors. We will dye in a gradated series using 4-5 dye extracts and a natural ferment indigo vat to create a pallet of colors. Students will produce approximately 200 color samples. We will use a traditional alum mordant and a second set using an alternative alum/tannin based mordant. Samples will include bombyx, tussah and raw silk fiber contents.
Please note, these extracts have been developed for the commercial dye market and while relatively non-toxic are very colorfast. Each student will receive a comprehensive dye notebook with workshop instructions as well as notes for working on your own to dye yarns. Included in the notebook will be a set of dye samples produced in class. The instructor will provide most materials, but the students will need to bring good rubber gloves, scissors, waterproof sharpie marker, and either an apron or old clothing to work around dyes. Maximum registrants: 20 Level of experience : Beginning – Advanced dyers. Some familiarity with dye methods is helpful but not necessary. Workshop fee: $150. Materials Fee: $35
Instructor Bio: Jane has spent the last 37 years working as a production weaver. She holds a bachelor's degree in clothing and textiles from Florida State University and went on to earn an MFA from San Francisco State University with a concentration in textiles. She currently lives in Peacham, VT on Brigid's Farm that is home to a herd of natural colored angora goats and dairy goats. Her on-farm studio specializes in natural dyeing practice and research. She teaches regularly in her studio. Her article Making Stock Solutions from Natural Dyes appeared in the Spring 2014 Color issue of Spin-Off Magazine. Teaching Experience: Vermont Sheep and Wool Festival, 2007-present, New York State Sheep and Wool Festival, 2012 – present, North Country Spinners, Fibre Fallout 2014,Northeast Handspinning Association, Gathering 2016, Vermont Technical College, Part-time Instructor, 2016 – 2017
October 10 - 12, 2018

Multi-day Workshop – Catharine Ellis - Woven Shibori
Catharine will conduct a three-day workshop on woven shibori. Weaving will be done with cotton or other cellulose fibers incorporating resist warp and weft threads at the loom. All dyeing will be done with indigo. The class will build organic indigo vats, using fructose, henna, or iron as reduction agents. Students will also learn how to use these vats and maintain them. Participants will prepare their looms for woven shibori according to instructions provided by Catharine. Emphasis will be placed on experimenting with patterns and understanding structural possibilities on 4 or 8 shafts. Students will be encouraged to sample but it will be possible to complete a small product such as a scarf or woven runner. The workshop will be held at Bethany UCC Church in Randolph, VT (walking distance to the Craft Center.) Workshop Fee:$200 plus a materials fee of $15 to be paid to the instructor.
Instructor Bio: Catharine Ellis has been a weaver and a dyer for over 40 years. After three decades of teaching the Fiber Program at Haywood Community College in NC she is now dedicated to studio work, focusing on natural dye processes. She also does specialized, selected teaching, in the U.S. and internationally. Recent projects include teaching natural dyeing in Guatemalan through Mayan Hands.
Catharine is the originator of the woven shibori process and author of the instructional book, Woven Shibori (Interweave Press, 2005). In 2016, a new edition was published, which focuses on natural dyes. Her textile work is shown extensively in exhibitions and shows. She is currently working collaboratively with the Oriole Mill in NC to produce specialty Jacquard fabrics.
Catharine is actively involved in the Surface Design Association, the World Shibori Network, and is a founding member of the Southeastern Fiber Educators Association. She is currently on the Board of the Textile Society of America, and has served on the boards of Penland School of Crafts and the Center for Craft, Creativity, and Design. She established the Western North Carolina Textile Study Group in 2012. Catharine is currently writing a book with co-author, Joy Boutrup, on natural dye practices that will be published in 2018.
October 13, 2018

AM Presentation – Catharine Ellis -From Plain Weave to Jacquard: A Journey Through Textiles.
Catharine will talk about the evolution and discoveries through her own textiles in the context of weaving, and woven shibori.
November 10, 2018

AM Presentation – Deborah Kaplan – Open Your Weaving Horizons
Weaving can be a lot of things. The possibilities are endless. How do we get to new ones? In this presentation, we will discuss how to look at the world around you with fresh eyes, how to develop habits of creativity and how to refine your own unique design sensibility. We will look at specific examples from the textile department of a London design school and from Debbie's own personal experiences approaching unusual materials. Hopefully, you will come away with a set of tools you can use daily.
PM Workshop – Deborah Kaplan - Unusual Materials: from the almost familiar to the odd
Unusual materials are both ancient and modern. Some will seem similar to yarns you have used before, others will be quite different. Horsehair, paper, straw, stems, unusual silks and plant and animal fiber yarns, and overtwisted yarns have been used for centuries. Elastics, plastics and stainless steel, copper, brass and synthetic metallic yarns are all newer. We'll look at them all. Why use some of the more unusual materials available? How do you go about evaluating them? We will look at the properties of some more common and not so common materials and compare and contrast. There will be an opportunity to try out use of some of these materials.
Instructor bio: Debbie Kaplan branched into weaving 20 years ago from a background in handspinning and knitting. Her knowledge of materials informs her work. For a number of years she has been working with collapse weave and unusual materials such as copper, steel, undegummed silk, and horsehair to obtain open, gauzy, surprising effects. She has also used more standard materials in novel ways. Thinking outside the box is a passion. Debbie's work has been featured in SpinOff, Handwoven and the CW Journal. She has won awards at NEWS and Complex Weavers and been part of Convergence displays.
February 9, 2019

AM Tapestry & General Show & Tell

PM Workshop – Susan Rockwell – 8-Shaft Double Weave

This class will explore the aspects of double weave that can be created on more than four shafts. More shafts mean more possible combinations of double weave and other structures and a greater use of color. We will also cover drafting for multiple shaft double weaving. Students should be familiar with the basics of double weave, however it isn't necessary to have taken the first session in Sept. 2017.
Instructor Bio: Susan Rockwell is active in the Vermont Weavers Guild and Past President of the New England Weavers Seminar (a conference for all NE Guilds). Susan has been teaching weaving classes since 1987 at weaving guilds, regional weaving conferences and craft schools. She has exhibited and won awards for her weaving at local, regional and international exhibits. Susan has juried numerous weaving shows and organized and completed a 250 hour course for weaving instructors.
March 9, 2019

AM Guild Project (Georgia O'Keeffe Scarves) Show & Tell & Exchange

PM Workshop - Janney Simpson - Finishing Techniques

This workshop will provide an overview (slide show and samples) of finishing and embellishment for handwovens followed by Janney's favorite techniques and hands-on practice with some of those techniques.
Instructor Bio: Janney Simpson began weaving in the early 1980's. She teaches weaving at Wesleyan Potters in Middletown, CT and at The Barn in Gaylord, MI and relishes the "ah-ha" moment when new weavers throw a shuttle for the first time. Janney is a past President, Apprentice, and Weaver of Distinction of the Handweavers' Guild of CT. Also a member of Complex Weavers and Japanese Textile Study Group, she enjoys sharing her interest in Sakiori weaving using vintage silk kimono. She has presented many workshops and lectures on Finishing and Embellishing Handwovens, Knitted Beaded Bags, Sakiori, Deflected Double Weave, and Weaving with Fibers of Micronesia. Privileged to be a student for four years in Laurie Autio's class, Explorations in Advanced Weaving, Janney strives to create one-of-a-kind pieces using a variety of fibers and weave structures on many types of looms.
April 13, 2019

AM Presentation - Beth Cederberg Guertin - Mélange Warps
Many weavers struggle with how to use up partial cones or yarn and yarn leftover from past projects. This presentation will go through the process of designing with left-over yarns and take us through different ways of designing and showing examples.
PM Workshop – Beth Cederberg Guertin – Mélange Warps

We all have partial cones of yarn, left over from previous projects, taking up valuable space in our yarn closets. Bring those yarns and let's plan a project to use up the yarns (goal is that you use them up without buying any more yarn to weave the project). We'll weigh the yarn, determine how many yards there are available, and then discuss options through stripes, plaids, 4 and 8 shaft drafts, combining textures, colors, and yarns. Samples will be shown. Students will leave with a project designed, ready to go home to wind the warp.
Participants will need to bring:
colored pencils
paper for designing (plain or graph) and/or laptop with weaving software
calculator
an inventory of yarns (on index cards or paper) you own that are not specified for a project. Attach a sample of yarn; list color(s) (if known); fiber content (if known).
partial cones/skeins, yarn leftover on bobbins, yarns you want to use up
If you bring in a detailed inventory then you don't need to bring the actual yarns. We need to know how many yards per pound and how much of that yarn you have., as well as the fiber content to determine sett.
If you own a McMorran Yarn Balance, please bring it to the workshop.
Instructor Bio:Beth Cederberg Guertin has been a weaver for over thirty-five years, and has a strong local and regional reputation for her knowledge and support of weaving and the fiber arts. She has been teaching both rigid heddle and multi-shaft weaving to children and adults first through her store in Arlington, MA (The Batik and Weaving Supplier), and now through her studio in Waltham, MA (A Place to Weave aka A Yarn Express. She enjoys designing projects to use up small amounts of yarns.
---
Directions to Kimball House

From I-89 take exit 4 onto Rte-66, head down hill to Randolph. At the stop sign, keep going straight (south on rte 12). Bear left (west) onto Rte-12 (N. Main St.), Go past Chandler Arts Center. Before the gazebo, bear left onto South Pleasant Street. Take the next road on the left, which is Randolph Ave. Kimball House is at the end of the street, sitting at the top of the hill. The drive to the right leads to a parking area. See map.