Workshops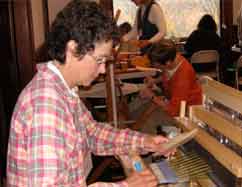 Afternoon workshops are provided to enhance the understanding of weaving and related topics. Multi-day workshops give the opportunity to spend extended time developing a more in-depth knowledge of a particular weaving structure.
Please register early for any workshop. Registrations on the day of the workshop will be accepted at the discretion of the committee and the instructor. There will be an additional $5.00 fee for registrations on that day.
If you find you cannot attend, please email Claudia Gibson at ccgmpcr@gmail.com to cancel. If your place can be filled from a waiting list, you will receive a refund. If we do not have enough registrations in advance, a workshop may be cancelled. If a workshop is cancelled due to weather or presenter illness, it will be posted on the website and the registration fee will be refunded at the next meeting.
Policy for afternoon workshops
Afternoon workshop registration fee is $35.00 per session for members and $50.00 per session for non-members, unless otherwise noted. Materials fees are in addition to the workshop fee and are to be paid directly to the instructor. Afternoon workshops are scheduled from 1:00–4:00 unless otherwise noted.
Policy for Multi-day workshops
The fees for multi-day workshops will be posted below in the description.
How to Register for a Workshop
There are two ways to register for a workshop, mailing a check and registration form, or paying online and emailing the registration form. The form includes contact information so that you can be contacted with any changes to the workshop requirements. Questions about programs and workshops can be sent to the Program Committee Chair, Claudia Gibson at ccgmpcr@gmail.com.
By mail: Complete the Registration Form to register for workshops. Please mail the registration form and your check to the address on the form.

OR


Online: Complete the Registration Form and email it to Claudia Gibson at ccgmpcr@gmail.com. Use the "Buy Now" links below each workshop to provide payment by PayPal.
---
2021-2022 Workshops
May 14, 2022
Mary Ann Sanborn—Tablet Weaving
An overview of tabletweaving, this class will explore the basic characteristics and tenets of tabletweaving, look briefly at its history and uses, discuss the process of setting up a warp, and review some of the variations possible in tabletwoven bands. We will look at several tabletweaving variations: threaded-in designs, diagonals simple and complex, double-faced tabletweaving, and warp manipulations. There will be several looms available for experimenting.
Workshop fee: Members: $35, Non-members: $50. Materials fee $10.
To register online, complete the Registration Form and email it to Claudia Gibson at ccgmpcr@gmail.com. Use the Buy Now links below for payment.

ONE SPOT LEFT as of 5/9
Member registration: $35.00
Non-member registration: $50.00
---
Directions to Kimball House

From I-89 take exit 4 onto Rte-66, head down hill to Randolph. At the stop sign, keep going straight (south on rte 12). Bear left (west) onto Rte-12 (N. Main St.), Go past Chandler Arts Center. Before the gazebo, bear left onto South Pleasant Street. Take the next road on the left, which is Randolph Ave. Kimball House is at the end of the street, sitting at the top of the hill. The drive to the right leads to a parking area. See map.