Workshops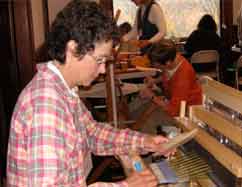 Afternoon workshops are provided to enhance the understanding of weaving and related topics. Multi-day workshops give the opportunity to spend extended time developing a more in-depth knowledge of a particular weaving structure.
Please register early for any workshop. Registrations on the day of the workshop will be accepted at the discretion of the committee and the instructor. There will be an additional $5.00 fee for registrations on that day.
If you find you cannot attend, please email Claudia Gibson at ccgmpcr@gmail.com to cancel. If your place can be filled from a waiting list, you will receive a refund. If we do not have enough registrations in advance, a workshop may be cancelled. If a workshop is cancelled due to weather or presenter illness, it will be posted on the website and the registration fee will be refunded at the next meeting.
Policy for afternoon workshops
Afternoon workshop registration fee is $35.00 per session for members and $50.00 per session for non-members, unless otherwise noted. Materials fees are in addition to the workshop fee and are to be paid directly to the instructor. Afternoon workshops are scheduled from 1:00–4:00 unless otherwise noted.
Policy for Multi-day workshops
The fees for multi-day workshops will be posted below in the description.
How to Register for a Workshop
There are two ways to register for a workshop, mailing a check and registration form, or paying online and emailing the registration form. The form includes contact information so that you can be contacted with any changes to the workshop requirements. Questions about programs and workshops can be sent to the Program Committee Chair, Claudia Gibson at ccgmpcr@gmail.com.
By mail: Complete the Registration Form to register for workshops. Please mail the registration form and your check to the address on the form.

OR


Online: Complete the Registration Form and email it to Claudia Gibson at ccgmpcr@gmail.com. Use the "Buy Now" links below each workshop to provide payment by PayPal.
---
2021-2022 Workshops
November 12–13, 2021

cancelled


Multi-Day Workshop—Prin Van Gulden—Introduction to Natural Dyeing



January 8, 2022, Workshop FULL, Registration closed
Virtual Workshop—Denise Kovnat—Painted Warps for Parallel Threadings
This online workshop will be offered thru Denise Kovnat's website and will be open to VWG members preferentially. It will be live streamed and then available to be viewed again by registrants for a limited time.
This shorter workshop covers in three Zoom sessions over one full day: dyeing and beaming of warps, in preparation for weaving taking place after the workshop. We will cover how to wind your warps, plan your colors, prepare your dyes, paint your warps, and beam them as one on your loom.
Participants will come away with two warps suitable for use in Ms. Kovnat's workshop "Extended Parallel Threadings," offered by the VT Weavers Guild in April.
This workshop is not a pre-requisite for the three-day April workshop, but it will be helpful.
See Ms. Kovnat's course descriptions at https://www.denisekovnat.com/p/classes.html. Look for the Paint Two, Beam One 1-day Workshop.
February 12, 2022, 9:30–4:00
Full-Day Workshop—Penny Hewitt—Black Ash Bench Baskets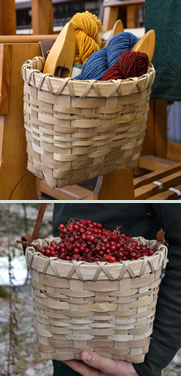 Make your own basket and in the process learn one of the oldest crafts in human history. For thousands of years baskets served as indispensable objects in every culture. Carry on the tradition and take home a beautiful, durable and useful basket crafted from local, responsibly harvested and hand pounded black ash logs. This basket was designed to be a bench basket for weaver's but is also the perfect size and shape for hand's free foraging or holding mail by the door.
Instructor bio: Penny Hewitt, from Lazy Mill Hill Farm in the Northeast Kingdom, is, among other things, a homeschooling mom, craftsperson and homesteader, who is inspired by the traditions of other cultures to revitalize and share skills useful to everyday life. She strives to grow, craft and participate in seasonal harvests for as many of her needs and wants as possible. She is grateful to be part of a generous community of talented makers and growers with whom she trades skills, ideas and wares. She uses hand-harvested resources from the forest, letting the qualities of varying materials dictate their use. She believes we all hold the capacity for positive change in the world and even the smallest steps toward reclaiming agency over our lives and wellbeing reverberate far beyond what we can see and know. Learn more at lazymillhillfarm.com/lazy-mill-treecraft/.
Workshop fee: Members: $60, Non-members: $75. Materials Fee: $40
Limit 12 participants
To register online, complete the Registration Form and email it to Claudia Gibson at ccgmpcr@gmail.com. Use the Buy Now link below for payment.
Member registration: $60.00
Non-member registration: $75.00
March 12, 2022
TBA
April 8, 2022, 9:30–4:00
April 9, 2022, 1:30–4:00
April 10, 2022, 9:30–4:00
Multi-Day Workshop—Denise Kovnat—One Warp, Many Structures: Explorations in Extended Parallel Threadings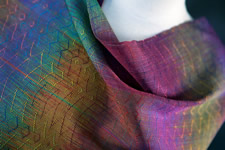 Extended parallel threadings offer endless possibilities for variations in color and pattern on one warp. In this workshop, designed for advanced beginners and beyond, you will arrive with your loom dressed in a two-color warp threaded on opposites. (Drafts will be provided about 6 weeks beforehand.) Working with a variety of tie-ups and treadlings, you will weave a series of designs in Echo, Jin (Turned Taqueté), Shadow Weave, Rep and Double Weave. The takeaway is a sampler of colorful patterns and a broader, deeper understanding of the potential for extended parallel threadings and how to design them. For 4-shaft to 32-shaft looms.
Instructor Bio: Denise Bolger Kovnat has taught at Convergence, MAFA and guilds across the United States and Canada. She focuses on Echo and Jin, collapse techniques, and Deflected Double Weave, and enjoys making garments using hand-dyed and handwoven fabrics. Her pieces have been juried into Convergence fashion shows since 2008 and have won awards from Complex Weavers, the Handweavers Guild of America and the Seattle Weavers Guild. She is most proud of serving on the founding team for the Weaving and Fiber Arts Center in Rochester, NY, which opened in 2002. Denise blogs about weaving and fiber art at denisekovnat.com.
Workshop fee: Members: $225, Non-members: $250. No materials fee.
To register online, complete the Registration Form and email it to Claudia Gibson at ccgmpcr@gmail.com. Use the Buy Now links below for payment.
Member registration: $225.00
Non-member registration: $250.00
May 14, 2022
Mary Ann Sanborn—Tablet Weaving
An overview of tabletweaving, this class will explore the basic characteristics and tenets of tabletweaving, look briefly at its history and uses, discuss the process of setting up a warp, and review some of the variations possible in tabletwoven bands. We will look at several tabletweaving variations: threaded-in designs, diagonals simple and complex, double-faced tabletweaving, and warp manipulations. There will be several looms available for experimenting.
Workshop fee: Members: $35, Non-members: $50. Materials fee $10.
To register online, complete the Registration Form and email it to Claudia Gibson at ccgmpcr@gmail.com. Use the Buy Now links below for payment.
Member registration: $35.00
Non-member registration: $50.00
---
Directions to Kimball House

From I-89 take exit 4 onto Rte-66, head down hill to Randolph. At the stop sign, keep going straight (south on rte 12). Bear left (west) onto Rte-12 (N. Main St.), Go past Chandler Arts Center. Before the gazebo, bear left onto South Pleasant Street. Take the next road on the left, which is Randolph Ave. Kimball House is at the end of the street, sitting at the top of the hill. The drive to the right leads to a parking area. See map.