Workshops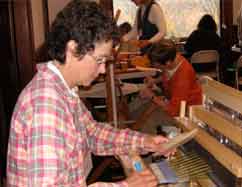 Afternoon workshops are provided to Vermont Weavers Guild members to enhance the understanding of weaving and related topics. Multi-day workshops give members the opportunity to spend extended time developing a more in-depth knowledge of a particular weaving structure. Please register early for any workshop. If we do not have enough registrations in advance, a workshop may be cancelled.
Policy for afternoon workshops
You must be a member of the Vermont Weavers Guild in order to register for an afternoon workshop.
Please sign up at least one month before the workshop. Afternoon workshop registration fee is $25.00 per session. Materials fees are in addition to the workshop fee and are to be paid directly to the instructor.
Registrations on the day of the workshop will be accepted at the discretion of the committee and the instructor. There will be an additional $5.00 fee for registrations on that day. A workshop may be cancelled if not enough participants are signed up one month in advance. If you find you cannot attend, please email the Program Committee to cancel. If your place can be filled from a waiting list, you will receive a refund.
If the workshop is cancelled due to weather or presenter illness, it will be posted on the website and the registration fee will be refunded at the next meeting.
Policy for Multi-day workshops
The fees for multi-day workshops will be posted in the description.
If we do not have the minimum participants signed up from our guild, the program committee may open registration to other guilds. If the workshop is cancelled due to insufficient registrations, weather or presenter illness, it will be posted on the website and money will be refunded at the next meeting.
Please complete the Registration Form to avoid any confusion about your workshop choices. The form includes contact information so that you can be contacted with any changes to the workshop requirements. Please mail the registration form and your check to the address on the form. Questions about programs and workshops can be sent to the Program Committee Chair.
---
September 9, 2017
AM Presentation-Susan Rockwell &amp Panel


Whether an old or new member please come help us celebrate this special birthday of the Vermont Weavers Guild. There will be a panel of several people with a display of photos, newspaper articles and guild memorabilia. The panel will cover a time line of Art and Crafts in Vermont, a search of newspaper records of the guild, the VWG association with NEWS and hearing from our special guests. Special guests will be two of our four Honorary Members, Betty Atwood and Edith House who are both distinguished weavers and have been mentors to many experienced and new weavers over the past almost 70 years. They both are truly a "Weaver's weaver" which means they have both taught weaving and been mentors to all weavers. Both have held many offices in our guild. Betty joined the guild in 1951 and has a keen memory of her early days in the guild, woven our award ribbons for years and is still running her weaving studio with students in Florence, VT. Betty is a past President of the New England Weavers Seminar (NEWS)*. She taught in the Weaving Department of UVM for many years and is an accomplished weaver still weaving and mentoring. Edith House is not only an Honorary Member of our guild but also an Honorary Member of the Weavers Guild of Boston. She has taught throughout New England and is a designated "Weaver of Distinction" at the NEWS based on her many award-winning shaft-switch rugs. Edith joined the guild in the 1970's and first learned to weave on an inkle loom. Edith received her Master Weavers rating from the Handweavers Guild of America in 1988. Please come and share your photos, newspaper articles and experience with the guild as well. Everyone except the Honored Guests are requested to bring a potluck so that we can get to know all members of our wonderful guild better.

PM Workshop - Susan Rockwell - Aspects of Double Weave
This class will explore the many aspects of double weave on four shafts including: separate layers, double width cloth, tube and double weave pick-up. Drafting, finishing, and setting up the loom will be covered as well as the examination of numerous samples. Students will take what they have learned home, and return for a show and tell at the March 10, 2018 meeting with samples for the group. The instructor will have drafts for samples, or you may create your own. Workshop fee: $25.00 Handout Fee: $2.00.

Saturday October 14th – AM Presentation - Donna Kay
Donna will present Yarn Evaluation: Methods for evaluating and determining the best uses for many different kinds of yarn.

PM WORKSHOP Saturday & All Day Sunday October 15th Donna Kay


Beginning Spinning Workshop
Donna Kay will conduct a day and a half long workshop on the basics of hand spinning. The workshop will cover how to adjust and use a spinning wheel, draft fibers and spin a yarn as well as fiber preparations, types of spinning wheels and fiber tools. Students should bring their own wheel in good working condition. If you do not have a wheel, Donna will bring a couple of extra wheels and lazy kates and niddy noddies to share. Contact Annette to reserve a wheel. Annette.higby@comcast.net. Workshop fee: $100 Materials fee: $10 to be collected by the instructor.

Instructor Bio Donna Kay s an accomplished handspinner, knitter, designer and teacher. She is from Barrington, New Hampshire and has been teaching knitting and designing knitting patterns for over twenty-five years. 'Folk' knitting is her passion and she delights in sharing her knowledge with others through her teaching and designs. Donna's designs have frequently appeared in popular knitting magazines such as Interweave Knits, as well as in the books, Christmas Stockings and Knitter's Stash. In order to further promote the art of traditional hand-knitting, she started her own company, Tree of Life Designs.

November 11-13, 2017
AM Presentation - Lucy Brusic - What is crackle and what can you do with it?
Saturday PM, Sunday & Monday – Lucy Brusic – Making Crackle New
Making Crackle New
Using drafts from a Swedish weaving book, Jamtlandsdrall (Osterssund: 1955) we will explore new ways to interpret and use the crackle weave. ('Jamtlandsdrall' is the Swedish word for crackle.) Some of the new ways involve color use and treadling and are applicable to other structures. You do not need to know anything about crackle to take this workshop. I will explain the principles of crackle as we go. However, you must be able to thread a loom accurately so that you arrive in the workshop with your loom ready to go. And you must be able to follow reasonable treadling instructions. You will be weaving on your own looms (4 shafts). By mid-September I will supply the drafts to be threaded along with some indication as to which ones I think are easier than others. I will try to limit the drafts to 300-350 threads. I suggest that you interpret them in either 8/2 or 10/2. (There are a few rug drafts that can be woven in 5/2). It is easier for other weavers to use your work if you are using 'known' threads. A 3 to 3.5 yard warp will be sufficient unless you are planning a post-workshop project such as a towel. Only a few of these drafts are part of the American crackle literature. My hope is someday to publish an updated version of Jamtlandsdrall for modern American weavers. To this end, I will have my husband photograph a good sample of your pattern. I would be delighted if you also want to give me a sample to take it home with me in case I decide to go with a professional photographer. I will also ask you for a brief biographical sketch to add to the information about the sample. Workshop Fee: $200. Materials Fee (pattern book): $10.

Instructor Bio Lucy Brusic is a writer and a weaver. She is the author of A Crackle Weave Companion: Exploring Four-Shaft Crackle (Kirk House: 2012). She has been working with the crackle structure for more than 40 years and has sampled almost all the 4-shaft crackle patterns in the American weaving literature. She was co-author with Joyce Harter of Weaving for Worship: Handweaving for Churches and Synagogues. She has taught workshops at several Convergences (2000, 2004, 2006), at Midwest Federation, at Intermountain in Albuquerque, and at the Weavers Guild of Minnesota. She has also spoken at the Rocky Mountain Weavers Guild; at the Canton, Ohio, Weavers Guild; and at the University of Minnesota at Duluth. She is a former president of the Weavers Guild of Minnesota and of the Weavers Guild of Connecticut. Lucy lives in St. Paul Minnesota with her husband, a retired Lutheran minister, and her son. She weaves in the winter and gardens in the summer.

February 10, 2018
AM – General Show & Tell
PM Workshop – Julie George – YOU Be the Judge – walking in their shoes
Submitting your work to be judged doesn't have to be scary. Sometimes we get glowing comments but they aren't always the ones we remember. It's the times they see a mistake that you didn't see or they don't like the color or one judge loves it and another doesn't. Those are the comments that stick in our minds. Judges don't know everything but they know a lot and can help us to evaluate our own work. In this workshop, we will talk about what the judges are looking for and will have a chance to be a judge. We will look and talk about  pieces that have been through the judging process, hear what the judges said, and hopefully, take some of the mystery out of the process. I hope this will help more of our guild members to take the plunge and put their work in the next guild exhibit in 2019!

Bio: Julie fell in love with weaving at the age of 5 or 6 with potholders and started weaving in the early 1970s when she lived in Kentucky and fell in love with the beautiful coverlets that were often found at estate auctions. Her first loom was a barn loom bought at auction. Julie spent two years doing week-long paper weaving workshops in the local elementary schools while living in Kentucky. She now weaves on an 24-shaft AVL and a 12-shaft Macomber. There was a 10 year hiatus in the 80s due to the "No Space, No Time, No Money" syndrome. Julie joined the guild in 1995, served as president of the VWG for four years among several other guild roles. Julie, along with three other guild members, documented the textile collection of the Vermont Historical Society. She went on to analyze and weave samples of many of the pieces. She has taken many guild workshops and recently completed Laurie Autio's "Explorations in Advanced Weaving" course. She is also a member of Complex Weavers, Handweavers Guild of America and the Boston Weavers Guild.

March 10, 2018
AM – On the morning of March 10th, the Vermont Weavers Guild will host a video and live Q and A with Rebecca Mezoff.
PM On-line Tapestry Study Group Kick-off - Rebecca Mezoff


Rebecca Mezoff is offering the guild a deep discount on the price of her on-line tapestry course. Her Warp and Weft: Learning the Structure of Tapestry course is offered in three parts.  We will begin with Part 1. The course is intended as a six to nine-month course of study for those with no experience with tapestry or for those who have some knowledge of tapestry but need a structured review of foundational principals.  Participants will have access to Rebecca's extensive video instruction library, PDF handouts with diagrams and photographic examples, as well a group discussion forum. Photos of your work can be submitted for feedback from Rebecca.  Live video calls are also a possibility for an additional fee of $50 (total). For the best outcome, participants should spend a few hours each week on study and weaving.


Technical requirements: You must have access to broadband, and a Mac, PC or iPad. If you can view a standard you tube video you will be fine.

Equipment: You should have a floor or frame loom suitable for tapestry weaving.  Rebecca has posted a materials list here: https://static1.squarespace.com/static/50329a7ec4aa66e8231ce213/t/54d3c4b7e4b0a44b7ce184fc/1423164599805/Materials+list4.pdf

You must sign up for this class using the regular guild form.The workshop fee will be $25, paid to the Guild. Names and email addresses will be sent to Rebecca. She will then send an invitation to register for her course at the discounted rate. The course fee is paid directly to Rebecca upon registration.

Course Fee for Part 1: If 5 to 9 people sign up: $120
If 10 to 14 people sing up: $110
15 plus: $100
The same discount will apply for those who want to go on to Parts 2 and 3, provided there are at least 5 people to go forward.

Instructor Bio: When she wasn't digging in the sand in her backyard in New Mexico, Rebecca Mezoff grew up making dolls out of her dad's old socks. Now she makes large-format tapestries and is often found weaving in her pajamas which she affectionately calls her "home pants". She also creates online courses and occasionally she leaves the studio to teach weavers in the real world about color and technique in tapestry. Her current work focuses on human perception and the long scale of geologic time. Her studio is in Fort Collins, Colorado. You can find out more about her on her website and blog at www.rebeccamezoff.com.
Tapestry Group Lunches: April 14, 2018 and May 12, 2018.

April 7-9, 2018
AM – Susan Wilson – Topic TBA
PM – Saturday – Monday – Polychrome Crackle Workshop

Crackle weave is a surprisingly versatile weave with exciting design potential on just four shafts. This workshop covers the essentials of drafting and designing in the classic crackle weave, with consideration of design elements of proportion, color, value, and texture. On-loom exercises ensure a thorough understanding of classic crackle weave. In addition, we will explore the many variations possible by treadling crackle in the manner of other weaves, e.g. summer and winter or Bronson lace, and by using special treadlings, e.g. polychrome or boundweave. Your sampler will include at least twelve distinctly different fabrics, all on a crackle threading. Comprehensive instruction in multi-shaft crackle is included in the 3-day workshop.

Advanced beginning to intermediate level - students should have some experience with pattern weaves (e.g. overshot, summer and winter) and know how to read a draft.

4-shaft loom required. Loom preparation instructions and materials list will be provided for distribution to participants well in advance. No materials fee. Maximum participants: 18

Bio: Susan Wilson received the HGA Certificate of Excellence in Handweaving, Master Level, in 1990, with a specialty in crackle weave. Her book, Weave Classic Crackle & More was published in 2011. She has published articles in Weaver's, Handwoven, Shuttle, Spindle, & Dyepot magazines, and Complex Weavers Journal, and her crackle sample was featured on the cover of A Weaver's Book of 8-Shaft Patterns edited by Carol Strickler. Susan has lectured and taught workshops throughout the U.S. and at several Convergences and regional conferences. A weaver for 45 years, Susan enjoys pattern weaving, sampling to explore woven structure, and creating household textiles and clothing accessories.

May 12, 2018
AM Presentation – Fran Curran – Color for the Weaver


Many weavers struggle with how to use color in their weaving. This PowerPoint presentation attempts to point out the key factors to consider when selecting color for any weaving project.

PM Workshop – Fran Curran – Selecting and Planning Designs with Color.
This workshop will consist of a series of hands on exercise's that tackle different color and design problems. Through making wraps and searching for fresh exciting color combinations, all participants will leave the workshop with plans for future weaving projects. Yarns and most of the materials will be provided. Materials list for participants will be provided. Workshop fee: $25. Materials Fee: $5.00 to be collected by the instructor.

Bio: For the past 35 years Fran has enjoyed teaching weaving classes and exhibiting her work throughout New England. She is the Executive Director of the Hartford Artisan Weaving Center and past president of NEWS 2007 and Hand Weavers' Guild of CT 2004. Fran received a BA in Textiles from Manchester College of Art and Design (England), and a master's degree from Wesleyan University, Middletown, CT.

September 8-9, 2018
AM – Jane Woodhouse – Roots, Bugs and Berries, In Search of the Perfect Red 
PM – Jane Woodhouse - Dyeing Silk Naturally

We will begin with a short discussion of dye theory as it applies to both chemical and natural dyes. Dye extracts will be mixed in a 1% equivalent stock solution for mixing colors. We will dye in a gradated series using 4-5 dye extracts and a natural ferment indigo vat to create a pallet of colors. Students will produce approximately 200 color samples. We will use a traditional alum mordant and a second set using an alternative alum/tannin based mordant. Samples will include bombyx, tussah and raw silk fiber contents.

Please note, these extracts have been developed for the commercial dye market and while relatively non-toxic are very colorfast. Each student will receive a comprehensive dye notebook with workshop instructions as well as notes for working on your own to dye yarns. Included in the notebook will be a set of dye samples produced in class. The instructor will provide most materials, but the students will need to bring good rubber gloves, scissors, waterproof sharpie marker, and either an apron or old clothing to work around dyes. Maximum registrants: 20 Level of experience : Beginning – Advanced dyers. Some familiarity with dye methods is helpful but not necessary. Workshop fee: $150. Materials Fee: $35

Instructor Bio: Jane has spent the last 37 years working as a production weaver. She holds a bachelor's degree in clothing and textiles from Florida State University and went on to earn an MFA from San Francisco State University with a concentration in textiles. She currently lives in Peacham, VT on Brigid's Farm that is home to a herd of natural colored angora goats and dairy goats. Her on-farm studio specializes in natural dyeing practice and research. She teaches regularly in her studio. Her article Making Stock Solutions from Natural Dyes appeared in the Spring 2014 Color issue of Spin-Off Magazine. Teaching Experience: Vermont Sheep and Wool Festival, 2007-present, New York State Sheep and Wool Festival, 2012 – present, North Country Spinners, Fibre Fallout 2014,Northeast Handspinning Association, Gathering 2016, Vermont Technical College, Part-time Instructor, 2016 – 2017

October 10 - 12, 2018
Multi-day Workshop – Catharine Ellis - Woven Shibori

Catharine will conduct a three-day workshop on woven shibori. Weaving will be done with cotton or other cellulose fibers incorporating resist warp and weft threads at the loom. All dyeing will be done with indigo. The class will build organic indigo vats, using fructose, henna, or iron as reduction agents. Students will also learn how to use these vats and maintain them. Participants will prepare their looms for woven shibori according to instructions provided by Catharine. Emphasis will be placed on experimenting with patterns and understanding structural possibilities on 4 or 8 shafts. Students will be encouraged to sample but it will be possible to complete a small product such as a scarf or woven runner. The workshop will be held at Bethany UCC Church in Randolph, VT (walking distance to the Craft Center.) Workshop Fee:$200 plus a materials fee of $15 to be paid to the instructor.

Instructor Bio: Catharine Ellis has been a weaver and a dyer for over 40 years. After three decades of teaching the Fiber Program at Haywood Community College in NC she is now dedicated to studio work, focusing on natural dye processes. She also does specialized, selected teaching, in the U.S. and internationally. Recent projects include teaching natural dyeing in Guatemalan through Mayan Hands.

Catharine is the originator of the woven shibori process and author of the instructional book, Woven Shibori (Interweave Press, 2005). In 2016, a new edition was published, which focuses on natural dyes. Her textile work is shown extensively in exhibitions and shows. She is currently working collaboratively with the Oriole Mill in NC to produce specialty Jacquard fabrics.

Catharine is actively involved in the Surface Design Association, the World Shibori Network, and is a founding member of the Southeastern Fiber Educators Association. She is currently on the Board of the Textile Society of America, and has served on the boards of Penland School of Crafts and the Center for Craft, Creativity, and Design. She established the Western North Carolina Textile Study Group in 2012. Catharine is currently writing a book with co-author, Joy Boutrup, on natural dye practices that will be published in 2018.

October 13, 2018
AM Presentation – Catharine Ellis -From Plain Weave to Jacquard: A Journey Through Textiles.

Catharine will talk about the evolution and discoveries through her own textiles in the context of weaving, shibori, f

PM Workshop – Beth Balon – Inkle Weaving Details TBA

November 10, 2018
AM Presentation – Sue Smith – Title TBA
PM Workshop – Sue Smith – Lace Weaves - Details TBA

February 9, 2019
AM Tapestry & General Show & Tell
PM Workshop – Susan Rockwell – 8-Shaft Double Weave - Details TBA

March 9, 2019
AM Guild Project (Georgia O'Keeffe Scarves) Show & Tell & Exchange
PM TBA

April 13, 2019
AM Beth Guertin
PM Workshop – Beth Guertin – Garbage Warp- Details TBA

May 11, 2018
Guild Show Opening
No afternoon workshop
---
Directions to Kimball House

From I-89 take exit 4 onto Rte-66, head down hill to Randolph. At the stop sign, keep going straight (south on rte 12). Bear left (west) onto Rte-12 (N. Main St.), Go past Chandler Arts Center. Before the gazebo, bear left onto South Pleasant Street. Take the next road on the left, which is Randolph Ave. Kimball House is at the end of the street, sitting at the top of the hill. The drive to the right leads to a parking area. See map.