Exploring Stripes Workshop with Kate Smith
March 12, 2011

Afternoon Workshop:

In her research and reproduction of the 18th c. fabric - calimanco - Kate Smith, of the Eaton Hill Textiles and the Marshfield School of Weaving,I encountered the ultimate use of colors in striped patterns. In some calimanco designs there are more then 25 shades of different colors going from light to dark creating the most striking overall effect. These fabrics were a testament to the skill of the both the designer, dyer and weaver. In this workshop we will explore the creation of stripes from the standpoint of color and weave structure. How the same stripe pattern can look so different when woven in a twill, plain weave or satin weave. There will be fabrics to study, looms to sample and yarns to create with.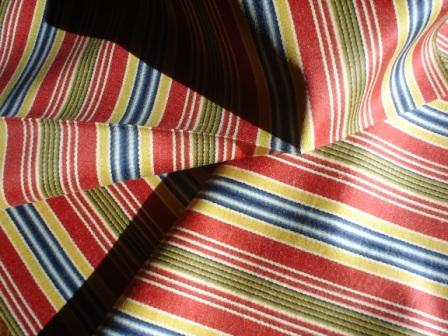 Morning:
Marshfield School of Weaving and Eaton Hill Textiles
Kate Smith, director of the Marshfield School of Weaving and Eaton Hill Textiles will be speaking about the reincarnation of the school, how it got started in the '70s and what it is doing now. In addition, she will talk about her business, Eaton Hill Textile Works and some of the lost weaving and finishing cloth techniques she is researching, like glazing, pleating, whole cloth quilts, Venetian carpets, etc. EHTW is a small textile mill in central Vermont that preserves age old textile techniques and honors superior craftsmanship in the reproduction of 18th and 19th century historic fabrics.
Bio:
Kate Smith has lived in Vermont since 1974 where she learned to weave in Putney, Vermont in 1977 and then at the Marshfield School of Weaving in 1979. She continued on at the Marshfield School of Weaving until 1992 working with Master-Weaver, Norman Kennedy, as apprentice, instructor and assistant director.

During that 12 year time period Kate immersed herself in every aspect of traditional textile production from the raising of the sheep and flax to the spinning, dyeing and weaving of the fabric. In 1992 she started her own business - Eaton Hill Textile Works - which specializes in the reproduction of 18th and 19th c. fabrics using all historic equipment and period dye recipes. Kate continues to teach traditional weaving, spinning and dyeing techniques from her studio at Eaton Hill Textiles and to consult with museums on their textile interpretation programs. Her woven work is used by many museum conservation departments and private individuals intent on creating authentic decors.

This past summer Kate has re-opened the Marshfield School of Weaving to continue teaching both traditional and contemporary weaving techniques. The school is enjoying a vigorous rebirth!